How to design a kitchen?  That's a big question.  With the kitchen being such a high activity area of the house it's worth finding out how to design a kitchen – even if you're using a kitchen designer or architect.  Knowing what's involved in the process will help you design your own kitchen or give a detailed brief to your designer.
Step 1 – How are you going to use your kitchen?
As always, the first place to start is thinking about how you're going to use your kitchen.
Think about…
How do you want to prepare and cook food?
How do you want to clear up afterwards?
How you want to entertain?
What appliances and fixtures will you need to carry out these activities.  What are the must haves, what are the nice to haves?
What other activities will happen in your kitchen apart from those related to food?  How about a sitting area with a TV or games console?  Office type activities such as computer time and paying the bills are also popular in kitchen spaces.
Have a think about how your kitchen will relate to the spaces surrounding it.  If it's open plan to a dining space or living space what kind of view does the people in these areas get of the kitchen?
How to design a kitchen? More like how to design your main living space.
Step 2 – Create a Floor and Wall Plan
The second step of how to design a kitchen is to create a plan of your kitchen 'space' – the floor space and the wall space.
First, decide if you're working in feet and inches or m, cm and mm.  For example in the United States and Canada kitchens are designed and sold in inches, in the UK and Australia it's millimetres.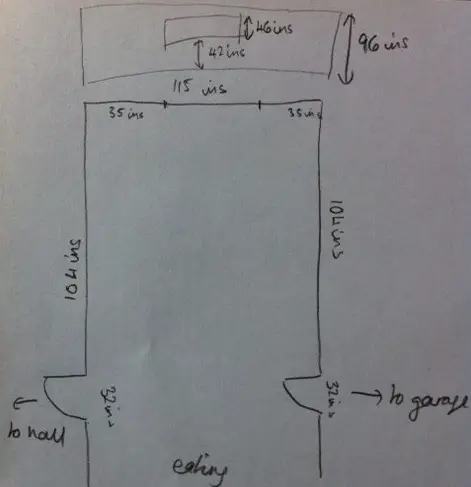 Time to measure up!  Take your time and be accurate and measure using the right measurement for your country.  Measure floor dimensions, niches, windows, doors, where the water pipes (and gas supply if applicable) come up from the floor.
Now it's time to draw up the plan.
You can do this on paper or you can use one of the online kitchen planners or software available (a bit more about that at the bottom of this page).
If you stick to the paper option, it's a good idea to adjust the scale so that you fit the kitchen onto a sheet of paper rather than the whole house.  The scale you can use depends on how big your kitchen is and how big your paper is.
Step 3 – Plan the Outline of Your Kitchen
It might be really obvious what shape your kitchen is going to be.  If so, go ahead and have a look at the relevant page links below.  If not you use the page links below for inspiration!
U shaped kitchen
G shaped kitchen
L shaped kitchen
Galley kitchen
Kitchens with islands
Also take a look at the kitchen dimensions page that goes through some important kitchen planning guidelines.
Using your paper drawing, online kitchen planner or software plan in the outline of where you will place the base cabinets, wall cabinets, islands and tables in your kitchen in plan view (looking down from above).  Don't worry about where the appliances and fixtures will be placed just yet.
Other Considerations on Kitchen Shape
As well as the shapes above you could also consider incorporating curves in to the kitchen.  This introduces challenges of being able to open adjacent cupboards and drawers at the same time without the doors or drawers banging into each other – but leaving a bit of space in between each set of units mitigates this.
If you have a bigger room to work with one of the main things to decide is whether the kitchen will occupy the whole room with an eating area open to the kitchen, or whether you want to try and maintain a bit of privacy to the cooking area – make it a bit like a bar or a coffee shop counter.  If you have an accident with dinner you might want to be able to put it right without everyone looking at you!
Step 4 – Research your appliances and fixtures
You've already got a list of appliances and fixtures that you need.  It's time to get a bit more specific about exactly what you want.
For example,
What size oven do you want?
What size and configuration of sink do you want?
What counter top do you want?
If you can identify the specific models you want all the better.
Step 5 – Place the Appliances and Fixtures
Head on over to the kitchen triangle page and read up about kitchen cabinet dimensions.
Then draw in the the appliances and fixtures onto your plan and come back here for the rest of the steps.
Step 6 – Plan Detailed Storage
Head on over to the kitchen storage ideas and kitchen storage solutions pages.  Storage is a big part of how to design a kitchen.
You're back?  Phew – that's kitchen storage done.  At this stage you should have the wall plans filled out with all the fixtures you're planning.
Step 7 – Lighting
Head on over to the kitchen lighting ideas page for some ideas here.  Then it's back here for the next step.
Your kitchen company may have some integrated lighting options.
Step 8 – Electrical
Plan the electrical points (outlets and switches for appliances) for your kitchen.
There are several options for outlets in your countertop and island.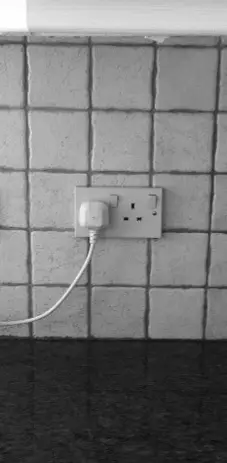 Normal outlet position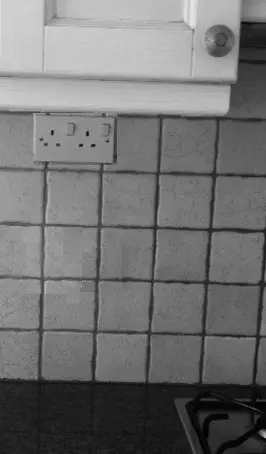 High outlet position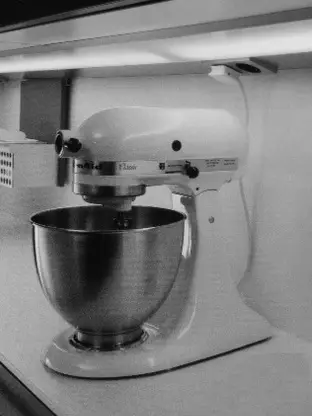 Under cabinet position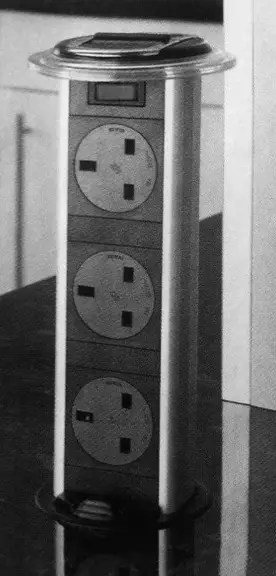 Pull up kitchen outlet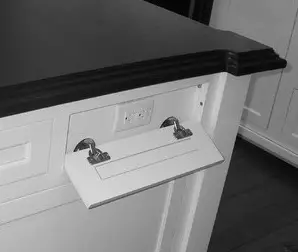 Hidden kitchen island outlet
Kitchen outlet positioning tips
Consider putting switches for appliances inside cupboards.  This will keep them hidden, yet accessible.
If you have a fancy backsplash that you'd rather not spoil with outlets, consider placing outlets on the sides of cupboards or walls perpendicular to your backsplash, or placing them up under your cupboards.
If you have an appliance garage, consider having the outlets in the appliance garage itself.  That way, you can just pull the appliances out to use them.
Step 9 – Find your kitchen company
Time to find out where you're going to source the elements of your kitchen.  The main element of which is your cabinets and then there's the counter top, ordering the appliances, the backsplash etc…
When you're researching different kitchen companies, if they can't provide all the elements, or you want to go elsewhere for a certain element (eg counter top or back splash) ask for their suggestions about where to go.
Off-the-shelf
Off-the-shelf kitchen companies deal in standard sizes and a range of finishes.  You can read more about standard sizes on the kitchen cabinet dimensions page.
You can work out how the standard sizes will fit into the size and shape of your kitchen.  If you have spare space left over at the end of a run of cabinets your options for using this space may be limited.  Most flat pack kitchens have panels available that match the design of the kitchen that you can use to board off any extra space.  This does lead to a bit of wasted space.
It's worth asking your kitchen installer (or asking yourself) if they have any ideas about how they could make any wasted space in a flat-pack kitchen into useful, usable space.
I've seen these excess spaces turned successfully into shelves either using materials from the flat pack company, or using mdf and painting the shelves the same colour as the kitchen walls.
Custom & semi-custom
A custom firm will build a kitchen to fit your kitchen exactly so if they do a good job, there won't be any wasted space.  They also generally capable of delivering anything you want (for a price)!
When you're researching the company that will supply your cabinets, start to think about how you will get all the components of your kitchen ordered and installed.  Are you going to use a custom company or interior designer that will organize it all for you?  Are you going to get the kitchen company to install the cabinets, but you'll take care of the rest?  Is your general contractor going to handle things?